---
Aug 12 | 2021
Gulf Cooperation Council (GCC) is an important and one of the larger regional transformers markets
by Azhar Fayyaz, Research Analyst – at Power Technology Research
The GCC transformer market is expected to grow with a significant CAGR of 10% from 2020-2025.
Geographically, almost half of the demand (2020-2025) in the GCC region will be generated from Saudi Arabia.
Within GCC, almost, half of the demand (2020-2025) is expected to result from infrastructure projects followed by 20% demand generation from utility sector.
Gulf Cooperation Council (GCC) is an important and one of the larger regional transformers markets around the world. Given large infrastructure projects in Saudi Arabia, followed by big projects including world cup in Qatar and new generation projects in UAE, the demand of transformers in the region is still ample, despite the setbacks like Covid-19.
The share of Gulf Cooperation Council (GCC) countries stood at around 3.7% of the global transformers market, which accounted for 863 million USD in 2020. Most of the demand originated from Saudi Arabia and UAE followed by the rest of GCC countries including Oman, Qatar, Bahrain, and Kuwait. In 2020, due to Covid-19 and associated lockdowns, transformer demand from the O&G sector was hit the hardest as development works on upgrading and commissioning of refineries and petrochemical facilities was delayed. Further, the infrastructure and utility sector in the region observed a similar decline of 10% in 2020. However, it is significant to note that amid all this, projects were only delayed not cancelled.
The Supply Side – Transformer Manufacturers
There exists a considerable market for power and distribution transformers in the GCC region, but the power transformer market is supplied by foreign manufacturers including Hyosung, Hyundai HI, Hitachi ABB Power Grids and BEST Transformers; the power transformer manufacturing capability available in the region only produces up to 132 KV. Whereas the distribution transformers market is almost entirely served by local manufacturers.
Given the pandemic, capacity utilization of transformer manufacturing facilities globally declined around 15-16% in 2020. Lead times of power transformers also increased by approximately 12 weeks during 2020 due to shortage of freight services and since power transformers are mostly imported in the region so this affected the market.
Mergers & Acquisitions in the Market
Recently, there has been some movement by companies in the market, where regional entities have acquired assets abroad as part of their expansion efforts. Saudi Arabia's Electrical Industries Company (EIC) finalized its acquisition of CG Power Belgium transformers factory for about 5 million Euros. The assets acquired by EIC include machinery, equipment, inventory, and software for designing transformers and mobile substations and intellectual property rights. EIC is currently in the process of restarting the manufacturing unit in Belgium with these assets.
Additionally, a subsidiary of Egypt's Elsewedy Electric, named Elsewedy Transformers Indonesia, has acquired a majority stake (95% of the shares) of CG Power Systems Indonesia. CG Power Systems Indonesia was a subsidiary of CG Power Systems Belgium NV manufacturing transformers in the region. Despite Egypt not being part of GCC, Elsewedy is very active in the region, with cables being their major business. This acquisition, however, indicates Elsewedy's ambitious expansion plans in serving the GCC market and beyond.
Demand Side - Saudi Arabia
Saudi Arabia's share of the GCC transformer market in 2020 was around 35% or USD 302 million. The O&G sector was hit the most (a decline of 30% YoY in 2020), largely due to the delay in development works on oil refineries. The infrastructure sector followed the GCC trend and reported a decline of approximately 6%. However, interestingly the Saudi Electric Company (SEC) invested in 2020, expanding their network and reported growth instead of decline. Looking at the sector specific growth drivers in the country:
Utility
On the utility side, Saudi Arabia showed an aggressive increase its MVA capacity from 2011-2016 followed by a slowdown in the growth. However, as far as the distribution transformers and the MVA capacity additions are concerned, no distribution transformers were installed in the year 2020 by SEC. From 2011-2019 there has been a 61% increase in the installed base of transformers which increased from 344,000 transformers in 2011 to 550,000 transformers in 2019. Under vision 2030, with the goal to diversify the economy, Saudi Arabia is building sustainable new cities, and this is expected to drive the demand of transformers in the utility sector.
Generation
In 2016, when Saudi Arabia unveiled its Vision 2030 plan, it set a goal of producing 60 GW of renewable energy by 2030, but little was installed. In 2021, the country reaffirmed its commitment to increase the renewable share in its energy mix to 50% by 2030, which in turn will result in renewable investments increasing transformers demand.
As per the Energy Information Administration (EIA) of the U.S., Solar Photovoltaic (solar PV) constituted only 0.1% of the total generation capacity in 2016. From 2010 onwards renewable capacity additions grew but at irregular intervals in Saudi Arabia. In total, 34 MWs of renewable capacity was installed from 2010-2018 where 325 MW were installed in 2019 alone, followed by no renewable capacity additions in 2020. Saudi Arabia's cumulative renewable installed capacity is around 410 MW out of which solar PV constitutes 360 MW followed by 50 MW of solar thermal capacity (Figure 1).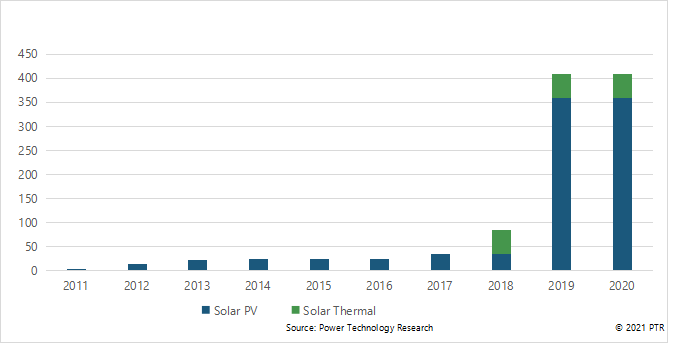 Industry
The following projects, worth billions of dollars, are expected to drive demand of transformers from the industry in coming years in Saudi Arabia.
Saudi Aramco is going ahead with Uthmaniyah and Shedgum gas plant expansions which are part of USD 2.7 billion project. The contract involves work on three new gas compression plants in the Uthmaniyah and Shedgum, upgrades in the existing Uthmaniyah and Shedgum gas plants and other facilities.
Last year Saudi Aramco was awarded contracts for four main EPC packages which are part of the South Ghawar unconventional gas field development project worth USD 2 billion.
The Aramco Hawiyah Unayzah gas reservoir storage (HUGRS) project is located 260 km east of Riyadh. The project includes construction of a gas injection facility with booster and injection compressors, a gas reproduction facility with reproduction compressors and slug catchers followed by several utilities and offsite facilities. The project is expected to be completed in 2023 and will enhance Saudi Aramco's ability to manage gas volumes needed to meet seasonal domestic demands.
Demand Side - UAE
Looking at the second largest market in the region, UAE's share of the GCC transformer market stood at around 33%, accounting for 284 million USD. The UAE transformer market dropped drastically, by almost half, mainly due to the slowdown of development work in refining and the petrochemicals industry. Dubai Electricity and Water Authority (DEWA) reported a decline of almost 20% relative to 2019 owing to Covid-19 delays. Looking at what caused this decline in demand within each vertical:
Utility
DEWA installed 20 new electricity substations in 2020 investing around 708 million USD into this expansion. These substations include a 400kV substation in Dubai South with a capacity of 2020 MVA followed by 19 other 132kV substations across Dubai with a total capacity of 2,700MVA. DEWA's cumulative investment in power transmission was close to 3 billion USD, including the 653 million USD for the 400 kV transmission projects and the 2.4 billion USD for the 132kV transmission projects.
Currently Dubai has a total of 23 400kV substations with four substations under construction. On the other hand, the total number of 132 kV substations is 302 with an additional 42 substations under construction.
Generation
UAE's renewable generation capacity started to pick up pace from 2012 onwards and unlike Saudi Arabia, renewable capacity was installed in in 2020 as well. Most capacity additions in the country fall under the solar PV category with most being installed in 2019, amounting to 1,320 MW, followed by 621 MW installed in 2020.
Barakah is UAE's first nuclear power plant which began partial commercial operation in April 2021. Barakah is a USD 32 billion project with a generation capacity of 5,600 MW with four units of 1,400 MW and is expected to provide one fourth of country's total electricity needs. Moving forward, the remaining units of Barakah along with UAE's ambitious plans of installing 42GW of renewables by 2050, will drive the demand for transformers in the generation sector.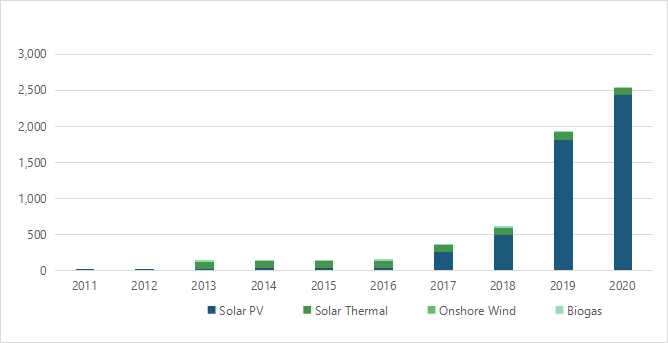 Industry
Demand for transformers from industry will originate from the following mega projects expected to be installed in the coming years:
The Ghasha mega-project is the world's largest offshore sour gas development project and after completion, is expected to produce more than 1.5 billion cubic feet of natural gas per day which in turn will power more than two million homes in the UAE by 2025.
Abu Dhabi National Oil Company (ADNOC) aims to become one of the least carbon intensive oil and gas producers in the world by significantly expanding their carbon capture program. As of now, ADNOC's Al-Reyadah facility has the capacity to capture 800,000 tons of carbon dioxide per year. ADNOC intends to expand the existing capacity of the carbon capture program by more than 500%. This program will not only capture CO2 from its own gas plant but is projected to capture 5 million tons of CO2by 2030.
ADNOC plans to expand the Upper Zakum facilities to achieve 1 million barrels of oil per day by 2024. The oil field, located 84 kms off the coast of Abu Dhabi, is the fourth largest oil field in the world. The project is valued at AED 110 billion and includes the construction of four artificial islands: Asseifiya (SI), Umm Al Anbar (WI), Al Ghallan (CI), Ettouk (NI). These islands will have wells, platforms, processing facilities and infrastructure with lower-cost land drilling rigs instead of the higher cost offshore rigs.
Demand Side - Rest of GCC
The rest of the GCC region, constituting of Qatar, Oman, Bahrain, and Kuwait contributed the remaining 32% of the market accounting for 276 million USD. A lot of this demand originated from specific industrial infrastructure projects with utilities and generation contributing relatively less compared to the case in Saudi Arabia and UAE. Looking at the individual verticals:
Utility
For the rest of GCC countries, most of the expansion was observed solely in Qatar Electric and Water Company. Other utilities in these countries did not experience significant activity leading to slow transformers demand from this vertical.
Generation
The remaining GCC countries, including Qatar, Oman, Bahrain, and Kuwait, are heavily reliant on fossil fuels to generate electricity and renewable capacity addition in these countries is negligible. In Oman, Bahrain, and Kuwait, nearly all the electricity is generated from fossil fuels.
Qatar which depends on natural gas followed by oil products to generate electricity had no significant renewable capacity additions previously but in 2020, the Al Kharsaah Solar PV IPP Project started development. Starting in 2021 with an initial capacity of 350 MW, the project will reach full capacity, 800 MW by 2022. Renewables to some extent will be the market driver in the future too, however, the generation mix is expected to favour conventional generation moving forward too.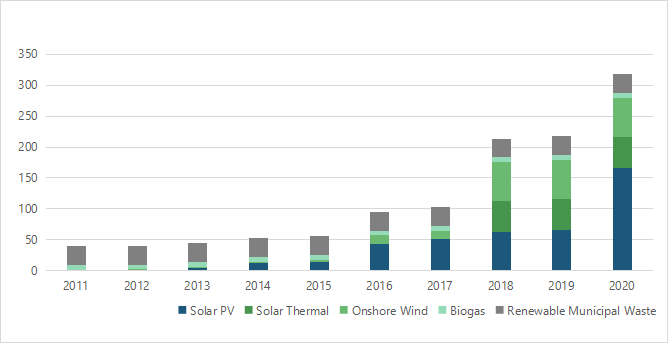 Industry
The following industrial projects in the rest of GCC are expected to drive demand for transformers in coming years:
Qatargas has awarded Saipem a USD 1 billion new contract related to the North Field Production Sustainability Pipelines Project. Located onshore and offshore from the Northeast coast of the Qatar peninsula, the project is expected to complete by mid of 2024.
Oman LNG has awarded a Project Management Consultancy (PMC) contract to KBR for a new 120 MW gas engine power plant. KBR will provide PMC services to determine an EPC contractor to do the work. The project aims to reduce fuel gas consumption and greenhouse gas emissions at the Sur plant.
Kuwait Oil Company awarded a new strategic export gas pipeline project to Larsen and Toubro Limited (L&T), an Indian multinational company. The contract is valued at USD 264 million, and the new gas pipeline will have a span of around 145 km.
Market Outlook
According to Power Technology Research, the transformer market of GCC countries experienced an average decline of 5% in 2020 where Kuwait's market experienced the most significant dip. Moving forward, the market is expected to recover slowly and grow with a significant CAGR of 10% from 2020-2025. Almost, half of the demand in this period will be generated from infrastructure followed by the T&D sector at around 20%. Geographically, almost half of the demand (2020-2025) in the region will be generated from Saudi Arabia followed by 25% demand generated from UAE. As far as the post-covid recovery of the transformer market in individual member states are concerned:
Saudi Arabia and UAE's transformer market is expected to return to almost 2019 levels in 2021.
Bahrain is already expected to surpass 2019 levels in 2021.
Oman and Qatar are also expected to get back to 2019 levels in 2021.
Kuwait's market is not expected to recover for the next 2-3 years.
Overall, the region experienced some setbacks in the last few years exacerbated by the pandemic. However, the transformers market is slowly recovering, as the large infrastructure projects are being commissioned. How long will this renewed momentum last will largely depend on how long the governments can fund these mega projects.
Author Bio
Azhar Fayyaz is a Market Analyst at Power Technology Research. He is involved in projects on the power grid topics at Power Technology Research gathering data on network structure of distribution utilities, estimating the installed base of T&D equipment, and analysing the information to predict future market trends. As a market analyst at PTR, he performs competitive analysis of different companies operating in a region and determine their market share for a specific product. He also has more than 2 years of experience working as a senior shift engineer at Chashma Power Generation Station. Azhar comes from a technical background and has a M.Sc. in Power Engineering.